The Disabled People's Archive team have put together a small exhibition of material relating to DAN (Disabled People's Direct Action Network) which is currently on display at Manchester Central Library.
Siobhan O'Connor, outreach worker at Archives+, suggested the Disabled People's Archive collaborate with her and Eugenie, the conservator, in producing a small exhibition to coincide with the airing of 'Then Barbara Met Alan' on BBC 2 (21 March 2022). The exhibition highlights photographs, newspaper reports and other artefacts relating to DAN.
All the team and Brian Hilton contributed to the wording. Ella and Katie designed the exhibition.
Photographs below have alt text and this is duplicated as image descriptions at the end of this post.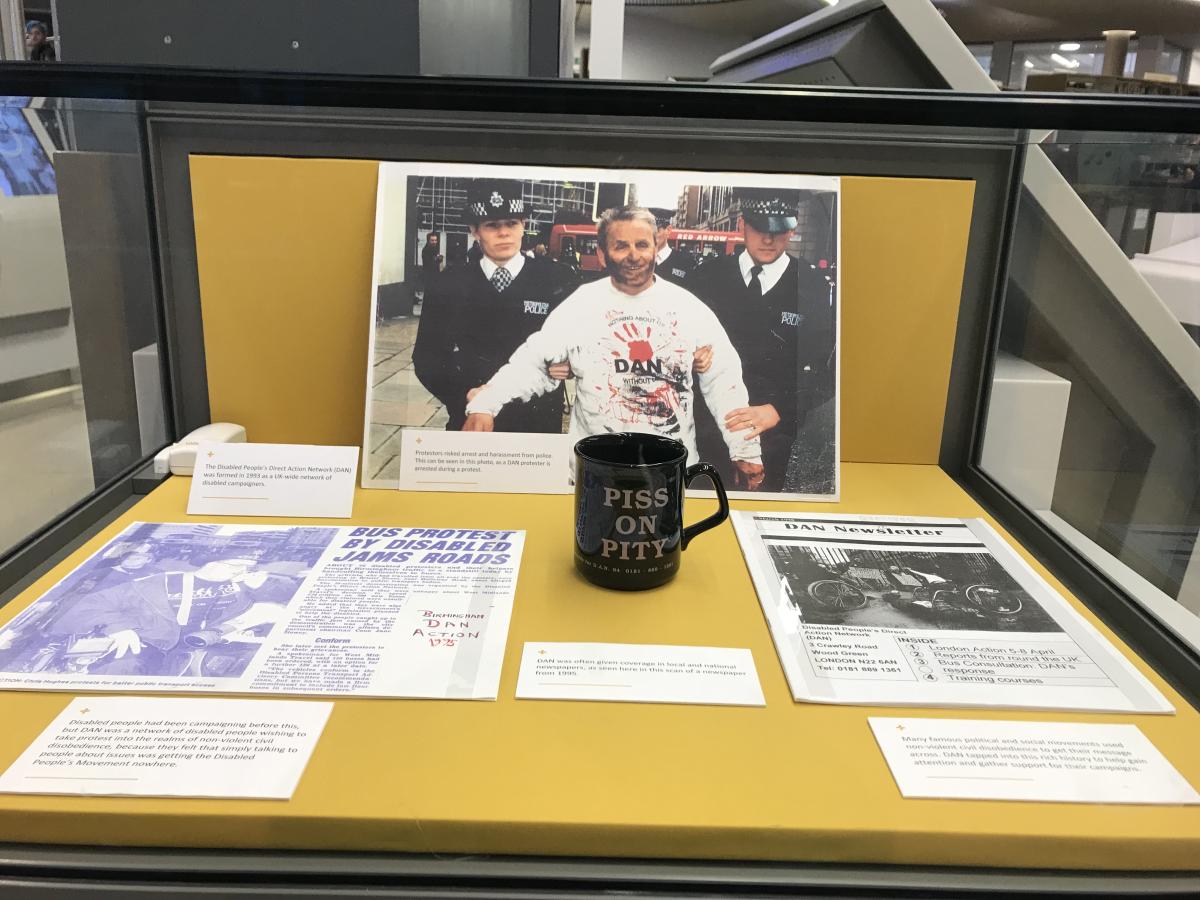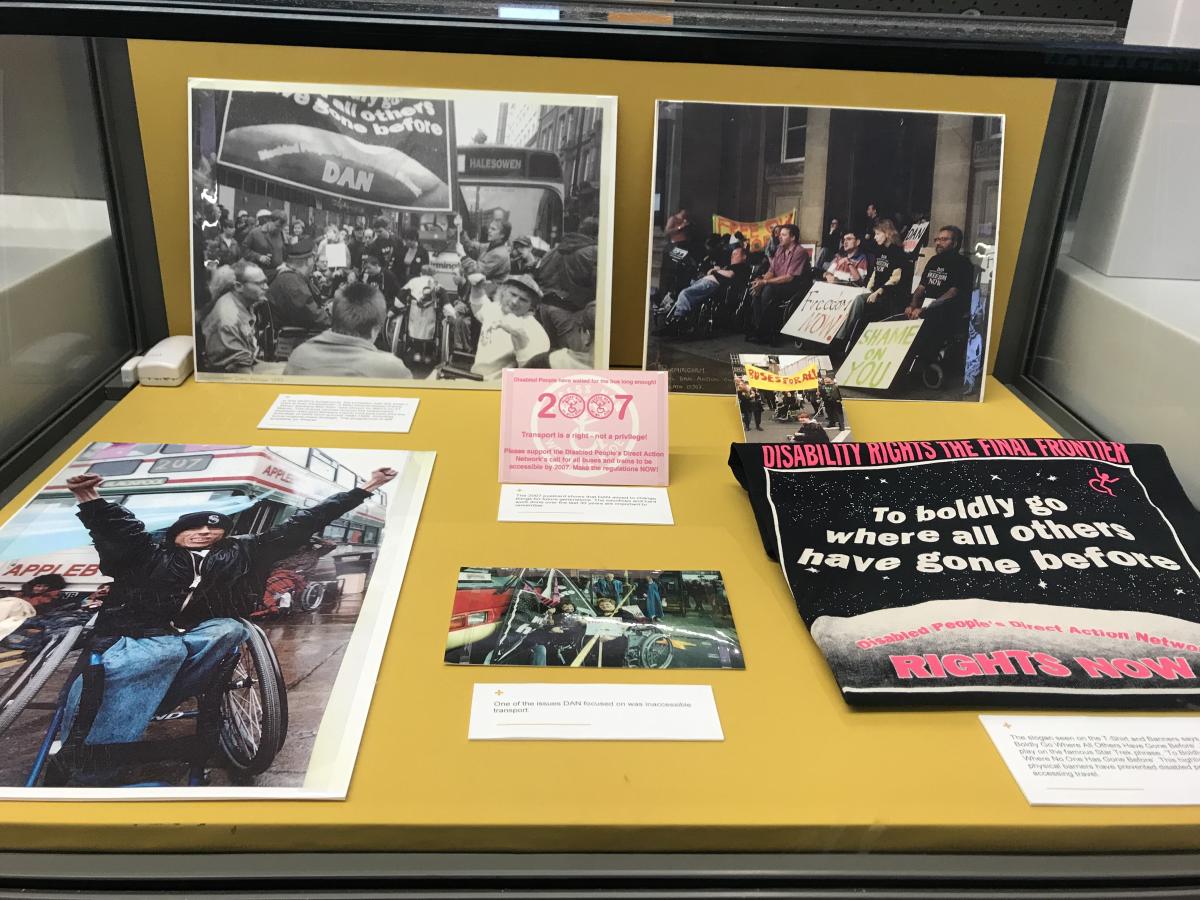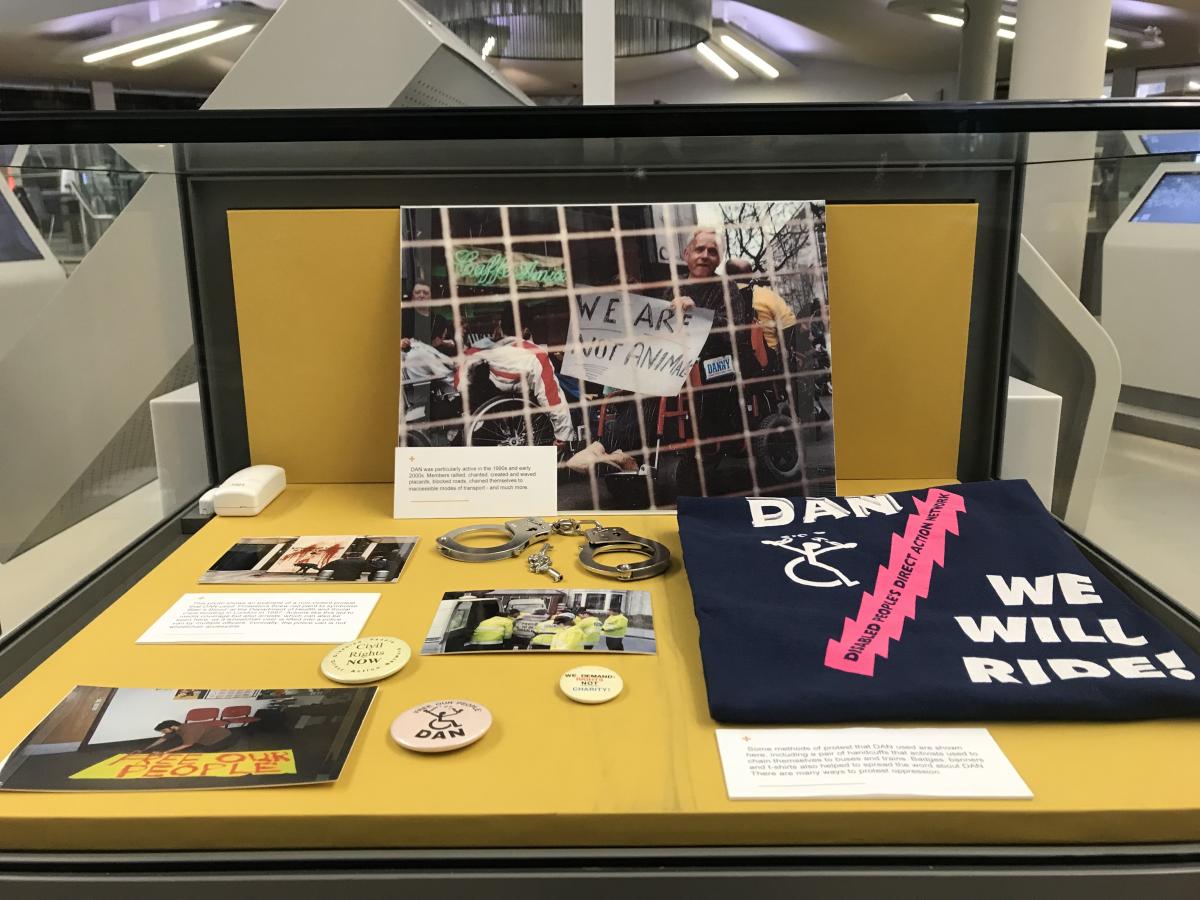 Image descriptions:
1. Glass exhibition case filled with photos and documents on a yellow background. The central photo is of a person in a white DAN sweatshirt smeared with black paint as they are taken away by two police officers. In front of the photo is a black mug printed with 'Piss on Pity'. Other documents include a DAN newsletter and a newspaper clipping that reads 'Bus protest by disabled jams roads'.
2. Glass exhibition case with DAN protest photos and a t-shirt on a yellow background. Back left photo is of many people at a transport protest in front of a bus, holding a banner. Back right photo is of 10 people protesting in front of a building in Birmingham holding signs that read 'Shame on You' and 'Freedom Now'. Front left photo is a person in a wheelchair in front of a bus with both arms in the air in triumph. Front right is a black t-shirt with a starry sky image reading 'Disability Rights, the final frontier. To Boldly go where all others have gone before. Disabled People's Direct Action Network, Rights Now.'
3. Glass exhibition case with DAN protest objects and photos on a yellow background. Central photo is a wheelchair user holding a sign 'We are not animals' with a square mesh in front of the camera lens. In front of this is a pair of metal handcuffs and several circular badges. On the left are several smaller photos of a building splattered with red paint, a wheelchair user lifted into a van by police officers and a person making a sign that reads 'Free our people'. On the right is a navy blue t-shirt printed with 'DAN We will ride' and a wheelchair user symbol.