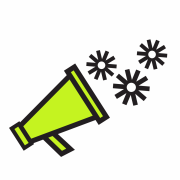 Powerful Together! 
We are excited to announce a fantastic opportunity for Manchester's disabled adults! This project will give you the opportunity to both give your expert knowledge to others, and receive it.  
Alongside this, you will be provided with a variety of peer-support spaces, workshops, and training sessions, that aim to teach resistance and how to challenge disablist discrimination in all its forms. 
What is it? 
Fortnightly gatherings to explore mutual support and becoming Powerful Together! 
No previous experience is needed but a willingness to listen and develop your knowledge of others is necessary.  
You might not know much about supporting others or feel you are not 'expert' enough. This is wrong, everyone will find something to contribute.  
Each gathering will involve developing skills and confidence towards being in charge of your own life and well-being.  
Where are they? 
Workshops will be online initially to ensure COVID safety. They might develop into in person workshops later down the line.  
You will need a device and online access to attend the workshops – Please let us know if this is a barrier to attending. 
How will the workshops run?  
The gatherings will be split into 3 sections:  
Community and network building 
Expertise workshops   
Advocacy training  
You have the option to drop in and out of sections 1 and 2 but will be required to attend / catch up on all advocacy sessions. This is to ensure you are able to leave with skills you are able to practice.  
Each section will run for around 2 months. 
Community gatherings will be very informal, with a slight structure to help access. 
Expertise workshops will be more formal and structured.  
Advocacy training will be formal and will require you to participate in exercises.  
When will workshops start?  
We are going to meet every 2 weeks on Thursday at 12pm. This may change depending on what the group finds best.  
Community workshops will start in October and finish in November.   
Expertise sessions will start in December and finish in January.   
Advocacy training sessions will start in February and finish in March.  
Access 
We will be able to support you to access this course. Please let us know what could help you attend the workshops. 
Who runs the workshops? 
The project is organised by GMCDP and funded by Our Manchester Community and Voluntary Sector.   
Some weeks, there will be guest speakers who will be covering topics of interest relating to disabled people's lives and wellbeing. This could be benefits advice, technology advice, education interests or whatever the group decides!  
GMCDP will be there to facilitate and support your access throughout. 
Does this sound exciting to you? Then please get in touch!
GMCDP is for people who self-define as a disabled person. We are disabled women, men, non-binary people; we are people of colour and white people; we are LGBTQI+, or not; we are people of different ages, class backgrounds, cultures and religions. Let's celebrate this together!
If you are not sure whether you identify as disabled, come have a chat with us! Contact us via email, phone, text or voice mail. You can also get in touch on Facebook and Twitter!
The first sessions of the project are taking place soon!
Find out more about these sessions here
Contact Gemma
Email: Gemma [at] gmcdp.com (subject: Powerful%20Together!)
Tel: 07367 755691